LAURENCE M. MILGRIM, M.D.
FACIAL PLASTIC & RECONSTRUCTIVE SURGERY
Ear, Nose & Throat
SCHEDULE A CONSULTATION
551-388-6511
Juvederm & Juvederm Ultra – Dermal Fillers for Facial Rejuvenation
Contact Us
As we age, gravity causes soft tissue to pull our facial features downward, resulting in a tired appearance. Now you can have a more youthful complexion with the assistance of a board-certified surgeon in New Jersey. Dr. Milgrim has extensive training in the proper usage of dermal injections and can naturally enhance your appearance within minutes. Years of experience combined with advanced training in dermal fillers make Dr. Milgrim qualified to administer Juvederm and Juvederm Ultra. The premium facial fillers are composed of a natural substance called hyaluronic acid, which when administered properly beautifully restores lost facial and lip volume. Dr. Milgrim's exceptional techniques provide same-day results and leave patients feeling confident about their Juvederm treatments.
Benefits of Juvederm + Juvederm Ultra
The infusion of lidocaine makes the procedure virtually painless
The professional technique provides soft, elevated lips symmetrical with your face
Dermal filler injections offer a light, balanced and natural overall appearance
Safe injections soften shadows and offer a more youthful appearance
BEFORE
AFTER
View More Photos ››
Before, During and After Your Juvederm Dermal Filler Treatment
Before: Dr. Milgrim will meet you at our comfortable New Jersey office where he'll determine if you're a candidate for Juvederm injections. Once approved, the doctor will discuss your goals, procedural issues, and an overall treatment plan. Prior to the treatment our friendly team will prep patient with a facial cleanse and alcohol swabbing.
During: Dr. Milgrim utilizes a steady hand and a microneedle to gently administer Juvederm treatments into your target areas. Generally, we focus your laugh lines, nasolabial folds or lip region to subtly enhance detail. As Dr. Milgrim naturally re-contours your face, he will softly massage the skin to reduce lumps and bumps. Throughout the procedure, our friendly clinical team distracts patient and applies pressure to prevent excessive pain.
After: We're proud to offer immediate results; this means you can return to your normal activities the same day as your Juvederm injections. Since Juvederm is hydrophilic, your skin will become even more supple in the days to follow. Due to the vascular nature of lips, slight bruising should be expected. We recommend light makeup and lipstick to hide treatment-related skin marring.
Lip Augmentation with Juvederm
Juvederm can also be used to naturally enhance the
appearance of your lips
. By injecting small amounts of this dermal filler into the lips, Dr. Milgrim can shape a more attractive lip contour and add volume to your lips. The use of dermal fillers lets you achieve the lips of your dreams, without committing to any permanent changes. If you're happy with your look, just return to our office for a touch-up within 6 months to maintain your results.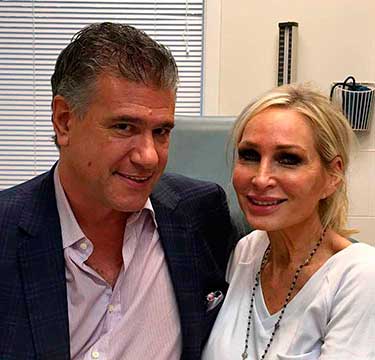 Kim D from Bravo's Real Housewives of New Jersey recently visited Dr. Milgrim for lip augmentation with Juvederm.
Why Choose Dr. Milgrim
Very few surgeons in New Jersey approach facial plastic surgery with the same passion as Board-Certified Facial Plastic Surgeon, Dr. Milgrim, MD. Decorated with over a decade's worth of elite Doctorates and Medical Recognition Awards, the Cosmetic Doctor is one of the best dermal filler experts in his field. Dr. Milgrim will rejuvenate your physical appearance and help you feel the way you deserve!
Schedule Your Juvederm Consultation at Our NJ Office Today!
Turn back the clock by scheduling an appointment in our office today. During your consultation at our Bergen County office, you'll meet with Dr. Milgrim to discuss treatment goals, the Juvederm procedure and which dermal fillers are right for you. Please give us a
call
today!
Back To Top