New Jersey Facial Plastic Surgeon, Dr. Laurence Milgrim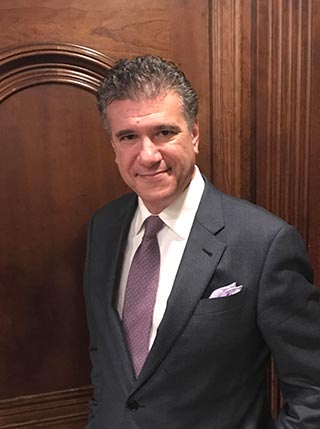 Dr. Laurence Marc Milgrim is an expert facial plastic and reconstructive surgeon, specializing in rhinoplasty, facelift and non-invasive plastic surgery, such as Botox and Juvederm in NJ and NY. He has been in private practice for over 20 years. He is board certified by both the American Board of Head and Neck Surgery-Otolaryngology and the American Board of Facial Plastic and Reconstructive Surgery. This unique status is reserved for the few surgeons who are in an exclusive class of their own and are experts in both cosmetic and reconstructive facial surgery. After graduation from Johns Hopkins University, Dr. Milgrim attended medical school at UMDNJ-Rutgers University. He completed his Internship and Residency training in Otolaryngology-Head and Neck Surgery at the Albert Einstein/Montefiore Medical Center in New York. Dr. Milgrim was awarded a Fellowship in Facial Plastic and Reconstructive Surgery at Mount Sinai Medical Center. He was then honored by Frank Kamer, MD with an Externship in Facial Plastic and Reconstructive Surgery at the famed Laskey Clinic in Beverly Hills, California. Over the past 20 years Dr. Milgrim has gained international fame for his approach to rhinoplasty, especially revision rhinoplasty. He trained with renowned New York rhinoplasty expert William Lawson, MD, DDS. Dr. Milgrim is a recognized authority on the rhinoplasty, having taught many surgeons on a national level, seen on ABC, NBC and FOX, and written numerous texts on the subject. He is quoted often in the New York Times and Allure Magazine. Among his many achievements include.
Castle Connelly "Top Doctors in the New York Metro Area"
Castle Connelly "Top Cosmetic Doctors and Dentists" for the past 10 years.
Patient Choice Award
Best Doctors In America
Best Doctors Bergen County, NJ Monthly
Consumer Resarch Council's "America's Top Physicians"
NJ Monthly , Top Doctors in New Jersey
201 Magazine, Best Doctors in Bergen County
Philanthropy
Due to his dedication to the field, Dr. Milgrim has been honored as an Academy committee member for Patient Advocacy. Dr. Milgrim has donated his time to FACE TO FACE, an international organization that provides complimentary surgery to those who have suffered facial trauma or facial disfigurements and has been a supporter of the Chron's Colitis Foundation, Harry Winston Foundation and Make a Wish Foundation.
Back To Top