LAURENCE M. MILGRIM, M.D.
FACIAL PLASTIC & RECONSTRUCTIVE SURGERY
Ear, Nose & Throat
SCHEDULE A CONSULTATION
551-388-6511
Laurence M. Milgrim, MD – New Jersey Facial Plastic Surgeon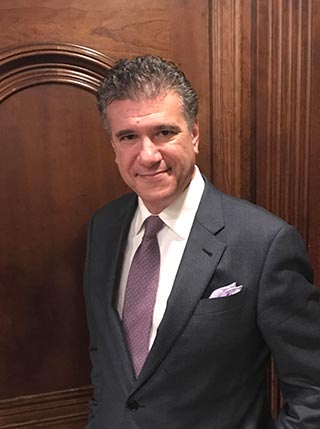 With nearly 30 years of experience, Laurence M. Milgrim, MD, is a top-rated facial plastic surgeon who has been named one of the best doctors in America. Based in New Jersey, Dr. Milgrim's specializes in rhinoplasty and other surgical and non-surgical facial procedures.
Beyond the Nose: Facelifts, Botox, and Dermal Fillers in New Jersey
Dr. Milgrim enjoys helping individuals who come to him look their best through facial rejuvenation. In addition to
facelifts
, neck lifts, brow lifts, and
eyelid surgery
, Dr. Milgrim expertly uses
Botox
injections to diminish fine lines and wrinkles, while providing moisturized, refreshed, and plumped-up skin via hyaluronic acid fillers such as
Juvederm
.
Unique Double Board-Certified Facial Plastic Surgeon
Dr. Milgrim is one of an elite group of surgeons in the New Jersey area who are highly trained and certified by two medical boards. Dr. Milgrim has been certified by the
American Board of Facial Plastic and Reconstructive Surgery (ABFPRS)
and the Board of
Otolaryngology/Head and Neck surgery (ABOHNS)
. His unique status and experience have provided him with an understanding of both the aesthetic and functional aspects of the face, head, neck and nose and ears. In a procedure such as
a rhinoplasty
, it allows him to maintain/improve breathing and remove blockages while improving the nose's appearance at the same time, unlike general plastic surgeons who are mainly concerned with appearance.
Dr. Milgrim's Education and Experience
Dr. Milgrim graduated from the prestigious
Johns Hopkins University
, where he received a bachelor's degree in science. Afterward, the plastic surgeon went on to garner his medical degree from The
University of Medicine and Dentistry of New Jersey (UMDNJ)
– Rutgers Medical School. Completing a general surgery internship as well as a facial plastic surgery/otolaryngology/head and neck residency at
Montefiore Medical Center/Albert Einstein College
of Medicine in New York City, Dr. Milgrim was chosen as chief resident. The plastic surgeon went on to complete his facial plastic surgery fellowship at
Mount Sinai Medical Center in New York
. As a fellow of the
American Academy of Otolaryngology-Head and Neck Surgery
, as well as the
American Academy of Facial Plastic and Reconstructive Surgery
, Dr. Milgrim is a consummate face and nose specialist, able to help both the aesthetic aspects of the nose as well as the sinuses as an an advanced nose and sinus surgery expert. Having been honored with an externship in Facial Plastic and Reconstructive Surgery at the world-renowned
Lasky Clinic
in Beverly Hills, California, by founder Frank Kamer, MD, Dr. Milgrim is known across the globe for his rhinoplasty work – particularly revision rhinoplasty surgeries that improve upon patients' previous nose jobs.
What Patients Are Saying About Dr. Milgrim
"Beautiful work. Amazing surgeon. Definitely visit Dr. Milgrim…" Ron Israeli, Livingston, New Jersey "What a nice doctor!! He was very patient and kind, he answered all our questions and made us feel very comfortable. We never felt rushed or pushed, the office is very clean and the staff was super professional. My wife did a nose job, she was in and out of surgery in an hour and a half. No pain or suffering and we are very pleased with the result. HIGHLY RECOMMENDED." Ray Sawyer of Wayne, New Jersey "No one will ever touch my nose again BUT Dr. Laurence M. Milgrim M.D.," wrote a New Jersey patient who gave the plastic surgeon a 5-star rating.
Honors, Accolades, and Fame
Dr. Milgrim has appeared on NBC, ABC, and Fox. The Bergen County plastic surgeon often lends his expertise to the New York Times, and other top publications, such as Allure. After training with William Lawson, MD, DDS – a New York-based plastic surgeon and rhinoplasty expert – Dr. Milgrim went on to train surgeons across the nation. Among the many honors Dr. Milgrim has received, the following recognitions have been awarded the plastic surgeon:
Castle Connolly's "Top Doctors in the New York Metro Area"
Castle Connolly's "America's Top Cosmetic Doctors and Dentists" for 10 years
One of the 5% of physicians in the country chosen for the "Best Doctors in America"
NJ Monthly: Best Doctors in Bergen County
NJ Monthly: Top Doctors in New Jersey
America's Top Physicians by Consumers' Research Council of America
201 Magazine: Best Doctors in Bergen County
PHILANTHROPY
Dr. Milgrim is a dedicated patient advocate who has given his time and talents to
FACE TO FACE
, a global organization that gives free plastic surgery to individuals who have suffered from trauma or disfigurements to the face. He also supports the
Make-A-Wish Foundation
, the
Crohn's and Colitis Foundation
, as well as the
Harry Winston Brilliant Futures Philanthropy Program
.
PROFESSIONAL JOURNAL PUBLICATIONS
CONFERENCES AND MEDIA
Milgrim L, News Channel 5, ABC affiliate, 5 o'clock news" Male plastic surgery"
Milgrim L, News Channel 12 New Haven, CT, Eye on Health " Allergy and Sinusitis"
Milgrim L, Channel News 12, "Discussion of Minimally invasive plastic surgery"
Milgrim, L., Dolan, R., "Surgical Anatomy of Rhinoplasty", Course Instructor, American Academy of Otolaryngology/Head and Neck Surgery, Annual Meeting
Milgrim, L., Lawson, W., "Aesthetic Surgery of the Latin Nose"; Course Instructor, American Academy of Otolaryngology/Head and Neck Surgery, Annual Meeting
Luncheon Seminars on ENT and Facial Surgery; Guest Speaker, held at Humana Health Services, Inc.,
Milgrim, L., "Discussion of Sinusitis"; NBC, 10 o'clock news, San Antonio, Texas
Milgrim, L., "Discussion Chemical Peel Facial Rejuvenation with demonstrations"; NBC, 5 o'clock News, San Antonio, Texas
Back To Top