LAURENCE M. MILGRIM, M.D.
FACIAL PLASTIC & RECONSTRUCTIVE SURGERY
Ear, Nose & Throat
SCHEDULE A CONSULTATION
551-388-6511
Lip Augmentation by NJ Top Facial Plastic Surgeon
Celebrate 2018 with sexy, kissable, full lips. Come in for a 30-minute quick fix. Local numbing is applied so you will not feel the needle. Call (551) 795-0726 to schedule a consultation.
When it comes to lip augmentation, there are few surgeons in NJ that can match Dr. Milgrim's skills. He was voted for 10 years by his peers as a Top Doctor and has over twenty years of experience as a board-certified
facial
plastic surgeon. He combines an artistic approach with deep knowledge of which facial fillers can make your lips look great and last longer. Dr. Milgrim often sees patients who are tired of mediocre results from the hands of nurses at medspas and unqualified physicians.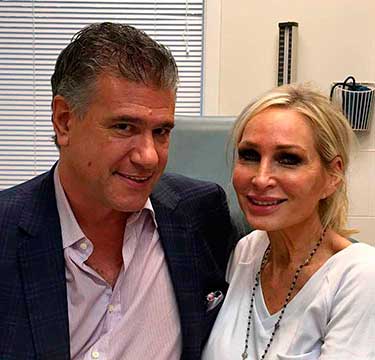 Kim D from Bravo's Real Housewives of New Jersey recently visited Dr. Milgrim for lip augmentation with Juvederm.
"The best experience!!! I love what you did to my lips! You are a doll! Painless and easy!!" ~ Kim DePaola
Which Type of Filler will be Best for me?
Contact Us
There are many options when it comes to lip augmentation and Dr. Milgrim will help determine which ones are best for you. Since every patient is different and their wants and needs vary, we are able to pick a treatment specifically for you. There are numerous combinations for dermal fillers and other injections that can be used to enhance and volumize your lips. Below are some of our New Jersey office's services.
Juvederm & Juvederm Ultra
Juvederm is a safe, injectable gel that helps smooth away folds and wrinkles around the mouth. It also can be used to shape the lips and enhance their volume. Juvederm also consists of an injectable anesthetic that numbs and minimizes discomfort in the areas of injection. The results are instant and can last up to a year. It is suggested to come back within 6 months to maintain and keep the results fresh. With Juvederm, you can leave our office feeling completely satisfied!
Radiesse
Radiesee is a safe, FDA-approved, synthetic injectable filler that reduces folds and creases around the mouth. This filler stimulates the production of collagen in the skin and enables the new collagen to remain in the areas for up to a year. Radiesse is most effective on smile lines, but can also be used in other areas of the face. The treatment is less than an hour, with results that are instantly visible. When patients continue to have Radiesse treatments, the amount needed and how often becomes less and less over time.
Restylane
Restylane is one of the only FDA-approved dermal fillers that is used to add volume to your lips. It has previously been used to treat deep lines between brows but is now seeing results with enhancing the lips appearance as well. The procedure can lead to some facial bruising and sensitivity, but the results are visible the same day and can last for several months.
Why Choose Dr. Milgrim?
When considering any changes or procedures done to your face, you want to look for a board-certified and highly skilled facial plastic surgeon who understands facial anatomy and is careful in the materials and techniques he applies on your face. Dr. Milgrim, along with having the expertise and a meticulous approach to procedures, also cares about his patients as individuals and ensures natural-looking results. Schedule a consultation at our New Jersey office today for unforgettable smiles!
Back To Top