Improving Nasal Tip Definition Through Rhinoplasty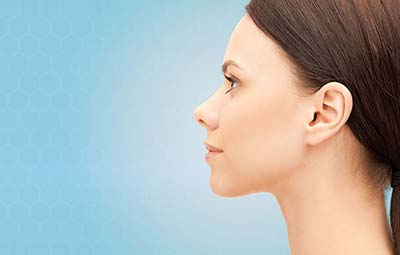 If you're unhappy about the shape of your nasal tip, you are not alone! One of the most common complaints I hear from my rhinoplasty patients is that they are unhappy with how the tip of their nose appears. Many people feel their nasal tip is too wide, bulbous, or droopy. In fact, dissatisfaction with the nasal trip is one of the most common motivations for rhinoplasty and secondary rhinoplasty. The nasal tip can be addressed along with other concerns or it can be corrected alone in procedure referred to as "nasal tip rhinoplasty."
Common Complaints about the Shape of the Nasal Tip
Problems with the nasal tip usually fall into one of two categories:
Bulbous nasal tip – this occurs when the lower cartilages of the nose are wider and rounder than they should be. It causes the tip of the nose to appear wider than the upper part of the nose.
Drooping nasal tip – this occurs when the lower cartilages and fleshy tissue appear to extend lower than the nostrils, giving an elongated and droopy appearance to the nasal tip.
In each of these instances, changes can be made to correct the nasal tip deformities and sculpt a more attractive nasal appearance that better suits the patient's overall face.
The Ideal Nasal Tip
When I think about the ideal nasal tip, I envision a well-defined tip that forms a triangular shape with soft angles. The ideal nasal tip is well proportioned in comparison to the dorsal bridge and the size/shape of the nostrils. The tip of the nose should be only slightly wider than the upper part of the nasal bridge. There is not a single "perfect" nasal tip – each person has a unique shape that will best suit his or her nose and face. When I improve the nasal tip through rhinoplasty, I always take the entire face into consideration before determining what changes to make to the tip.
Nasal Tip Rhinoplasty Techniques
Nasal tip rhinoplasty is very demanding because small changes can have a dramatic affect on the appearance of the nose. It takes a great amount of artistic skill to determine where to trim cartilage and/or tissue and how to sculpt a more attractive appearance using sutures or grafts. I rely upon several techniques when working with the nasal tip. When the nasal tip is too wide or bulbous, I typically begin by carefully trimming cartilage and removing fat to achieve a more proportional size.
In order to provide definition in the nasal tip, I rely upon sutures or cartilage grafts. Sutures are useful because they can be used to bring the lower cartilages closer together, thereby narrowing the tip and giving the nose more attractive angles. Cartilage grafting is another way to provide definition by changing the contour of the lower cartilages. When done correctly, this can effectively narrow the tip of the nose and provide a more attractive shape.
Schedule Your Consultation at our East Bergen Office
If you're unhappy about the appearance of your nose – whether it's due to the nasal tip or another concern – I welcome the opportunity to meet with you and discuss whether rhinoplasty would be a good option. Please contact us today to schedule an initial consultation!
Back to Main Blog Page