Non-Surgical Rhinoplasty
For patients who desire a change in the shape of their nose but prefer alternate options to invasive surgery, there's a better option. At the office of Milgrim Plastic Surgery we are proud to feature non-surgical rhinoplasty as an effective alternative to traditional plastic surgery. Board-Certified expert Rhinoplasty Surgeon Dr. Milgrim re-sculpts bumps, twists, tips and other asymmetrical mishaps until your nose is molded more smoothly. Though the injections cannot reduce the size of your nose, they are effective for patients who desire a more symmetrical appearance.
Dr. Milgrim employs injectables such as Radiesse, Voluma and Bellafill to create temporary, restructured results without the painful side effects which typically accompany a Rhinoplasty procedure. Dr. Milgrim's goal is to provide you with desired results, while balancing your nose with the rest of your face. Our practice combines safe treatment techniques with experienced medical staff to provide trusted and accurate results per each individual case.
Candidates for Non-Surgical Rhinoplasty Include:
Patients with crooked, bumpy or bulbous noses
Patients who have suffered a broken nose
Individuals that want to have a nose job corrected
Cases of drooping nose tips
BEFORE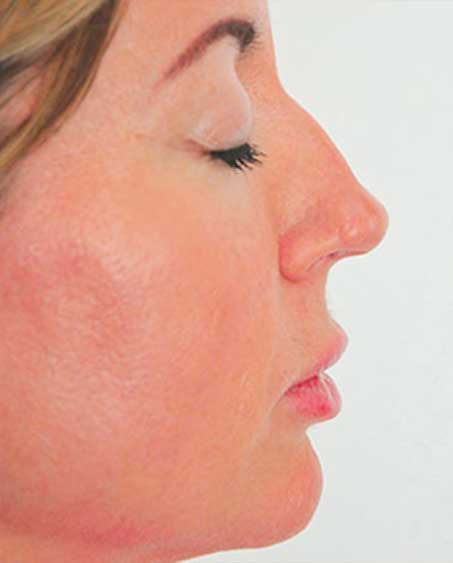 AFTER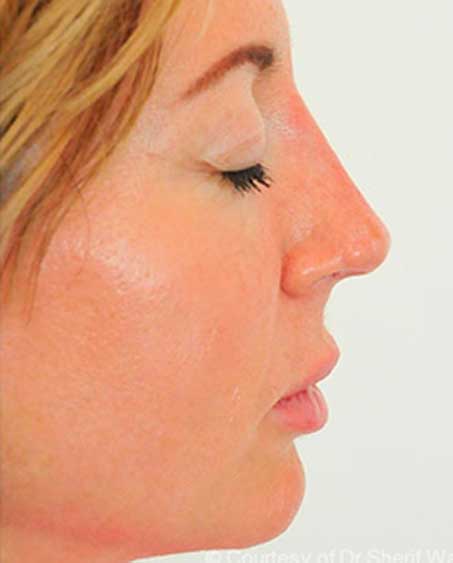 View More Photos ››
Before, During and After Your Non-Surgical Rhinoplasty
Before: Once you've met with Dr. Milgrim during your initial consultation, a series of photographs are taken and manipulated to showcase possible results. The doctor will explain the procedure and discuss your preferred filler. Dr. Milgrim advises patients to avoid any alcohol and the use of blood thinners such as aspirin prior to treatment to avoid excess bleeding. Before your rhinoplasty, an assistant will cleanse and apply a numbing agent to the patient's face. We will apply ice packs to your nose prior to treatment to make sure it's as painless as possible.
During: A non-surgical rhinoplasty is a same-day procedure performed right in our office. Our offices administer a topical anesthetic prior to your procedure to prevent pain. Dr. Milgrim practices extreme care while injecting fillers into your nose. The doctor administers a series of dermal fillers into the targeted areas of your nose, leaving patients with a straighter nose. This quick procedure provides corrective treatment without scarring, excessive pain or the added expenses of traditional surgery.
After: We provide Arnica to soothe your nose after treatment. Following surgery your nose may be tender, swollen and red. This discomfort subsides in about two weeks, should the pain lasts longer please contact the office of Milgrim Plastic Surgery. Non-surgical nose jobs should be maintained once every nine months, please visit our office for a touch-up.
Why Choose Dr. Milgrim?
Your nose is a sensitive, complex and highly visible part of your face that requires the trusted hand of a Rhinoplasty expert. Dr. Milgrim knows how to navigate the tender cartilage and planes between nasal tissue. For a smoother and more desirable appearance, Dr. Milgrim, MD is the optimal choice, firmly believing you deserve the face of your dreams.
Scheduling Your Consultation
Are you located in the New York or New Jersey area and looking to improve the appearance of your nose without invasive surgery? Please reach out to Milgrim Plastic Surgery today for your free consultation.
Dr. Milgrim often sees patients who come to our Bergen County office from nearby communities such as Ridgewood, Alpine, Tenafly, Demarest, Cresskill, Wayne, Englewood, Fort Lee, Closter and Upper Saddle River.
Back To Top