Facelifts
Unfortunately as we grow older, visible side-effects of aging present themselves in the form of dark circles, fine lines, saggy jowls and depressed cheeks. The effects of gravity cause us to lose skin elasticity, developing forehead creases and deep wrinkles. Board certified facial plastic surgeon Dr. Milgrim passionately and naturally sculpts patients' faces to achieve younger, revitalized, plump features. As with other procedures, Dr. Milgrim believes in customizing his surgeries to preserve a natural, unoperated look post-surgery. His surgical techniques, combined with dermal fillers in some cases, restore both volume and confidence. By focusing on minimally invasive face lifts, he creates long-lasting results with less bruising and downtime.
Most facelifts Dr. Milgrim performs are based on the gold-standard SMAS lift. He was trained by New York's most prominent plastic surgeons to perform SMAS lifts in which he repositions drooping jowls and upper neck tissues to give the jawline the trim look you once had. In certain patients, Dr. Milgrim will recommend other types of facelifts, specifically mini lifts and sling lifts.
Benefits of Having a Face Lift
Natural results – not overly tight / artificial
You'll obtain a more youthful appearance, helping you look and feel better
Prominent signs of aging will be reversed by tightening sagging jowls and lax neck skin
Each procedure is specific to the patient;s needs and can be performed in conjunction with other procedures
Restores facial contours with little downtime
BEFORE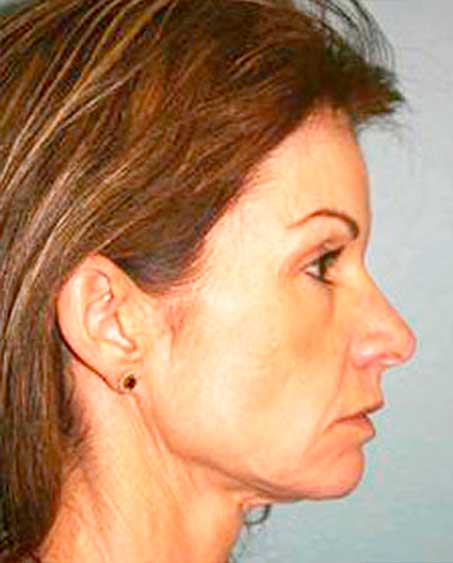 AFTER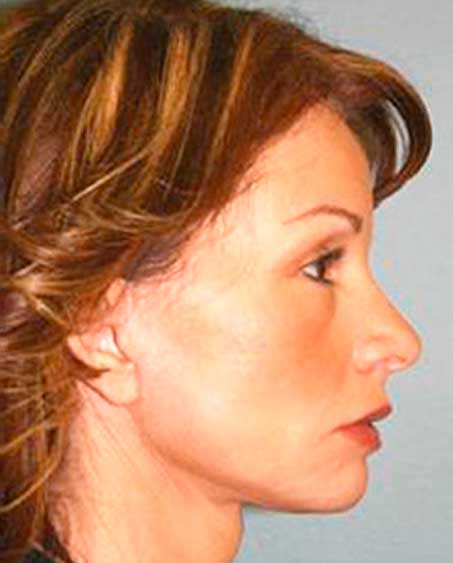 View More Photos ››
Before, During and After Your Face Lift
Before: Dr. Milgrim meets with each of his patient for a detailed consultation where it is determined if you are a candidate for a Face Lift or other, non-surgical treatments. The doctor will discuss your individual goals, make sure your expectations are in one line with what can be achieved, prepare and explain a surgical plan. You will be given pre and post-operative instructions.
During: In most cases, prior to surgery you will be administered with local anesthesia to promote comfort and avoid the risk of general/sedative anesthesia. Dr. Milgrim factors in the amount of change You'd like to see in your face and draws incision lines accordingly. Generally, the surgeon places incisions along the hairline ending at the lower scalp to conceal scarring. Throughout the procedure, Dr. Milgrim removes fat while simultaneously lifting muscle and re-draping loose skin to re-contour your features. He utilizes sutures and skin adhesives to safely mend the incision sites.
After: There may be slight bruising and swelling as your incisions heal. Our well-trained and compassionate staff will be by your side throughout your seven to ten day recovery period. We are happy to say patient will be back to work within two weeks of a typical Face Lift procedure.
Why Choose Dr. Milgrim?
Are the inevitable effects of aging having a negative impact on your life? Dr. Milgrim is a Board-Certified Facial Plastic Surgeon who has years of experience making patients look young again. He only operates on the face and has gained unique understanding of performing beautiful, long lasting facelifts. Highly trained and regarded in facial reconstruction, he will naturally restore your youth and help you regain confidence.
Scheduling Your Consultation
Should you have questions about what type of facelift procedure is best for your face, it would be best to schedule a complimentary consultation with board-certified Facial Plastic Surgeon Dr. Milgrim. A Facelift can be performed by itself, or along with other procedures to open the eyes, lift a droopy nose, add facial volume and/or tighten muscle groups.
Please contact our friendly office staff today, Milgrim Plastic Surgery looks forward to your visit!
Dr. Milgrim often sees patients who come to our Bergen County office from nearby communities such as Ridgewood, Alpine, Tenafly, Demarest, Cresskill, Wayne, Englewood, Fort Lee, Closter and Upper Saddle River.
Back To Top